José Manuel Menéndez García
Director
Full Professor at the Signal, Systems and Radio-communications Department of the E.T.S. Ingenieros de Telecomunicación of the Universidad Politécnica de Madrid. Director of the Visual Telecommunication Application Research Group – GATV since 2004, and Director of the Chair of the Spanish Public Broadcaster RTVE at UPM since 2015.
He has an extensive experience in participation and coordination or research projects (more than 150), both at Spanish and European level, in topics dealing with Communications, Digital TV and Computer Vision. He has more than 200 international scientific publications about those topics, and more than 70 conferences as invited speaker. He also holds 3 international patents and 6 software registries.
Regular evaluator of the IEEE Signal Processing Society since 2000 and IET Image Processing since 2009, he also collaborates with Spanish National entities as well as with the European Commission in the evaluation and review of R+D+i projects, and with several national telecommunication and broadcasting companies as consultant.
He has participated in the creation of two spin-off companies, and supported the launching of two other ones in the Communication and Information Technologies sector.
Grupo de Aplicación de Telecomunicaciones Visuales
Guillermo Cisneros Pérez
Full Professor
Born in Madrid (Spain) in 1960. Telecom Engineer with honours since 1983 and Ph.D in Communication Engineering cum laude since 1986, both from Universidad Politécnica de Madrid.
He started as Physics Teacher Assistant, and finally he became Full Professor of Telecommunication Systems, lecturing as well on Multimedia Networks, Systems and Services, Remote Sensing, and Computer Graphics.
Besides his lecturing and research activities at the University, he joined Telefónica of Spain for a decade working in technical, managerial, and international business responsibilities in applied research and mobile communications. He was Spanish representative in different International Organisations and Working Groups, such as IWP (Interim Working Party) 11/4 of the former CCIR (now ITU-R International Telecommunication Union - Radio), ETSI-GSM (European Telecommunications Standards Institute - Global System for Mobile Communications), and CEPT-MoU (Memorandum of Understanding) for GSM establishment.
He has also been active participant in several European Projects of different EU Programmes, with strong technological and consortium managerial responsibilities, mainly in the areas related to Networked Electronic Media, Digital TV Networks, Broadcast and Interactive Services in ubiquitous environments, Systems and Services for Cultural Heritage and Teleducation Applications, and Future Internet. He also has been working as expert to the European Commission in evaluation and auditing projects, as well as for national Spanish Programmes. As well, he was member of the Steering Board of the European Technology Platform on Networked Electronic Media (NEM). He has also been Vicepresident of both the Spanish Technology Platforms for Networked Electronic Media and Future Internet.
His research activities include the participation in more than 20 international research projects (mainly belonging to EC – European Commission Programmes) and 40 national research projects (mainly belonging to Spanish national Programmes), being Project Manager or main researcher in more than 10 international projects and more than 20 national projects. He has published more than 120 papers in journals and congresses, being more than 70 in international conferences.
He was Director (Dean) of Escuela Técnica Superior de Ingenieros de Telecomunicación of Universidad Politécnica de Madrid, conducting and implementing the Bolonia changes in the Escuela's academic programmes, and pioneering the international accreditation process by ABET-EAC (Accreditation Board for Engineering Technology – Engineering Accreditation Committee) as MSc (Master of Science) for the Telecommunication Engineering diploma, while being the President of the Spanish Association of Deans of Telecommunication Engineering Schools. During this period, he represented ANECA (National Spahish Agency for Quality Evaluation & Accreditation) for a pilot project of International Accreditation of Engineering Studies at a European level.
Later on, he was DG (Director General) of the Agency for International Promotion of Spanish Universities (Universidad.es), a Spanish Government agency reporting to the Board of Management formed by top officers from the Ministry of Education, Culture, & Sports, the Ministry of Foreign Affairs & Cooperation, and the Ministry of Economy & Competitiveness (Secretariat of State on Research & Innovation).
Since April 2016, he is the Rector (President) of Universidad Politécnica de Madrid (UPM).
Grupo de Aplicación de Telecomunicaciones Visuales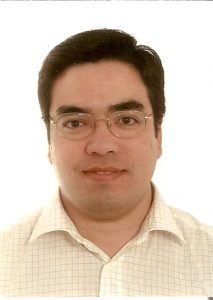 Jorge Alfonso Kurano
Predoctoral Researcher
Obtained the degree of Ingeniero de Telecomunicación from the UPM Telecommunications School in April 2010.
He is a member of the GATV (Grupo de Aplicación de Telecomunicaciones Visuales) since 2006, where he has been developing his activities in national and international projects in the fields of Intelligent Transport Systems, Cooperative ITS and more recently, in the application of ideas of advanced 5G communications to solutions in transport, which is also the topic of his ongoing PhD research.
Some of the projects he has been involved with include the CENIT OASIS, the FP7 FOTsis and the FP7 OPTICITIES, in which he has been able to contribute his experience and know-how on the specification of communications and data architectures, as well as supporting activities of scientific and technical coordination.
He is an active member of the Network of Excellence HUMANIST and of several ECTRI working groups. He is also a member of several standardization groups at ISO TC204, CEN TC278 and AENOR CTN159 related with Cooperative ITS, Urban ITS and Electronic Fee Collection. He has numerous published works on transport solutions architectures in journals and national and international congresses, and has been invited several times as a lecturer in these topics.
Grupo de Aplicación de Telecomunicaciones Visuales
Juan Antonio Rodrigo Ferrán
PhD Researcher
He received the Telecom Engineer degree (Hons) in 2007, the Master in Communications Technologies and Systems in 2010 and a Ph.D degree (Cum Laude) in 2016 by the "Universidad Politécnica de Madrid" (UPM).
He is a member of the Visual Application Telecommunication Group (GATV) since 2007. During these years his work has been focused in R&D projects in a few different areas including: HDTV and 3DTV real-time video processing and coding, video streaming, video quality analysis, computer vision, machine learning, embedded programming for real time video processing and industrial process automation. Several international congresses and publications endorse these R&D deployments.
Grupo de Aplicación de Telecomunicaciones Visuales
María Jesús Mayor
R+D Management
Administrativa por vocación desde hace más de quince años y aficionada a la tecnología desde siempre. Se formó y desarrolló gran parte de su carrera profesional en Palma de Mallorca y se trasladó a Madrid en 2011.
En 2015 entró a formar parte del equipo de Tetuan Valley, una incubadora de startups de tecnología, donde realizaba tareas administrativas y de enlace con socios, proveedores y colaboradores, así como justificación económica de proyectos europeos. Fue durante esa etapa cuando afianzó sus relaciones con el mundo de la tecnología, estableciendo contactos con proyectos muy diversos y con algunas comunidades tecnológicas.
Actualmente trabaja como gestora de administración en el Grupo de Aplicación de Telecomunicaciones Visuales de la Escuela Técnica Superior de Ingenieros de Telecomunicación de la Universidad Politécnica de Madrid y cursa estudios de Información y Documentación en la Universitat Oberta de Catalunya.
Grupo de Aplicación de Telecomunicaciones Visuales
This post is also available in: Spanish