Federico Álvarez García
Professor
Dr. Federico Alvarez is Telecom Engineer with honours (2003) and Ph. D. (2009), both by the "Universidad Politécnica de Madrid". He is working as Professor lecturing in the "Telecommunication Systems" and "Visual Communications" area in UPM. He develops his research within the research group in the Visual Telecommunications Applications group (GATV) of the "ETS Ingenieros de Telecomunicación" of the "Universidad Politécnica de Madrid". He is nowadays the coordinator of EasyTV and FI-GLOBAL, and technical coordinator of ICT4LIFE in H2020. He has been in the last 10 years also leading the UPM participation in several EU-funded projects, such as the SEA, SIMPLE, AWISSENET, RESCUER, FI-PPP project XIFI (on experimentation infrastructures), .... and coordinated the projects nextMEDIA, INFINITY and FI-LINKS. He worked as expert for the European Institute for Prospective Technological Studies for mobile search. He had taken part in standardisation bodies such as DVB-ETSI or CENELEC TC206 and is author and co-author of (70+) papers in journals, congresses and books in the field of ICT technologies. He is serving in the Programme Committee of several congresses and as reviewer of scientific journals. He organised the Future Internet Assembly in Madrid in December 2008.
Grupo de Aplicación de Telecomunicaciones Visuales
Silvia Uribe Mayoral
PhD Researcher
Silvia Uribe received the Telecom Engineer degree (Hons) in February 2008, the Master in Communications Technologies and Sistems in September 2010, the Master in Telecommunication Management in 2013 and finally the Ph.D degree (cum laude) in 2016 by the "Universidad Politécnica de Madrid"(UPM). She is a member of the Visual Application Telecommunication Group(G@TV) since 2006.
Her professional interests include interactivity technologies, content personalization technologies and big data. Related to this, she has been participating with technical responsibilities in some national (Buscamedia, Ciudad2020, LPS-BIGGER, Repara 2.0) and European (eASLA, LASIE, EasyTV) projects, and she is author and co-author of several papers and scientific contributions in international conferences and journals.
En julio de 2016 obtuvo el título de Doctora en Telecomunicaciones con la tesis "Desarrollo de un modelo multivariante para el análisis objetivo de la estética web".
Grupo de Aplicación de Telecomunicaciones Visuales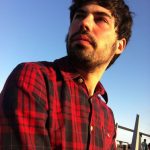 Francisco Moreno García
Predoctoral Researcher
Francisco Moreno received his BSc in computer science engineering in 2008 on the Thecnical University of Madrid. In 2007 he finished his final degree project called "Information Retrieval In Email Fields" on the Roskilde University (Denmark). From 2007 to 2012 he worked for different companies developing webs, where he got to be the Chief Developer in the advertisement agency Srburns. He moved to United Kingdom in 2012 where he worked two years and a half as mobile developer. Since October 2015 he is working on the GATV group where he works developing webs and mobile apps in different research projects.
Grupo de Aplicación de Telecomunicaciones Visuales
Javier Serrano Romero
Predoctoral Researcher
Javier Serrano Romero was graduated on Sound and Image Engineering by Universidad Politécnica de Madrid (UPM) and he did a Research Master on Signal, Image, Speech and Telecommunications at Institut Polytechnique (INP) de Grenoble (France). He worked, by doing his final degree and final master projects, on speech processing domain at GETALP group of Laboratoire d'Informatique de Grenoble (LIG). He was also reasearch assistant at Grupo de Aplicaciones de Procesado de Señales (GAPS) of UPM, working in a transfer of technology project to Telefónica Investigación y Desarrollo, by applying signal processing and machines learning techniques to inertial sensors signals, installed over mobile devices, for driving manneuvers detection.
He is working now at Grupo de Aplicación de Telecomunicaciones Visuales (GATV) of UPM on testing and validation of new UHD and immersive content delivery models in next-generation mobile networks.
Grupo de Aplicación de Telecomunicaciones Visuales
Andrés Ataloytia Vilariño
Predoctoral Researcher
Andrés Artaloytia Vilariño obtained the Bachelor's degree of Telematic Engineering at Carlos III University of Madrid. In September 2018, he carry out his final proyect titled "Development of virtualized services for microdrones platforms through the use of containers".
Some of his professional interests are the analysis and development of virtualized services through the use of containerization technologies, the management of communications networks and cybersecurity.
He is currently collaborating with the Grupo de Aplicación de Telecomunicaciones Visuales (GATV) of Universidad Politécnica de Madrid in the development of services, their virtualization and their deployment.
Grupo de Aplicación de Telecomunicaciones Visuales
This post is also available in: Spanish