RTVE's Chair at UPM carries on the partnership between Radio Televisión Española (RTVE) and Grupo de Aplicación de Telecomunicaciones Visuales (GATV).  Both entities have been partners over the past ten years in projects and initiatives involving digital television development, High Definition TV broadcast, or the launch of interactive services and hybrid television services.  As a result of this close collaboration, both organizations decided in 2014 to set a collaboration framework which will allow:
Boost the development of the audiovisual technologies in Spain together with the audiovisual corporates.   Specially, exploring and developing pilots with new signal types, such as Ultra High Definition (UHD), new encoding sygnal technologies (HEVC), new transmission networks with 5G nets, DVB-T2 broadcasts for maximize efficient use of the spectrum band.
Foster technology related vocations in future university students and contribute to the improvement of the ETSIT-UPM teaching activities.
RTVE's Chair at UPM Agreement was signed on 15th. January, 2015.
More info: http://catedra.rtve.etsit.upm.es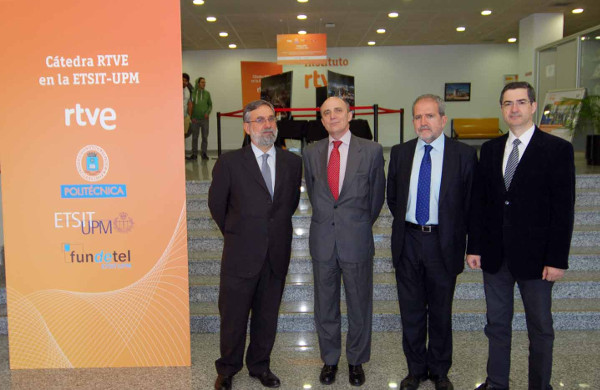 This post is also available in: Spanish